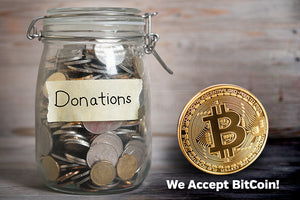 Donations
PayPal can only be used for One-Time Donations. If you would like to use PayPal for your Recurring Donation or if you would like to choose a custom donation amount, please use the below form.
Donate directly through PayPal.
One-Time or Custom Donations
Donate Crypto
Payment will submit without contact information.
Help keep this unique anti-war, anti-state, pro-market site on the air and growing with a contribution.
Select a Donation Amount above or mail Donations to:
Lew Rockwell.com
P.O. Box 1189
Auburn, AL 36831-1189.
Make your Check or Money Order payable to LewRockwell.com.
Please note that contributions to LewRockwell.com are not deductible as charitable contributions for federal income tax purposes.

---
Share this Product